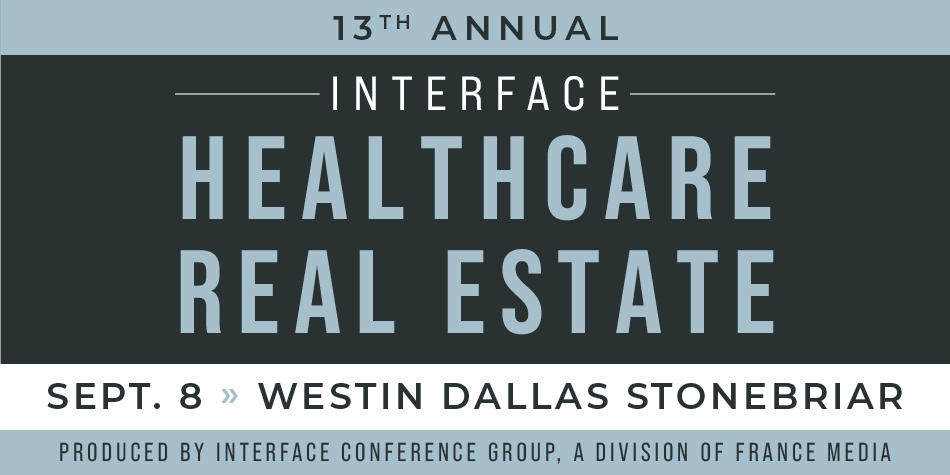 InterFace Healthcare Real Estate 2022
France Media and InterFace Conference Group are pleased to announce that the 13th Annual InterFace Healthcare Real Estate National Conference will take place on September 8 in Dallas.
The event will feature seven timely panel discussions as well as panel discussions and a networking reception on the afternoon/evening of September 7.
As it has done for 12 years, InterFace Healthcare Real Estate will bring together the greatest owners, investors, promoters, intermediaries and anyone allied with the hot healthcare real estate and medical practice industry for a combination of information and networking.
Speakers and attendees will include leading players in the healthcare real estate industry from across the country, who will discuss the latest news and trends across investment, development, financing and leasing/operating. The event will also offer the perspective of hospitals and health systems on how they are coping post-COVID and their current and future building needs.
Excellent information. High level networking. InterFace Healthcare Real Estate offers both, so join the rest of the industry leaders September 7-8 in Dallas, the industry's premier national event taking place this fall.
Make your plans now to be at InterFace Healthcare Real Estate on September 8!
Will healthcare/MOB real estate continue to weather the recession if the economy falters?
Will rising interest rates have an impact on the hot investment market?
Development is back and big – what's being built? Where? By who?
How are hospitals and healthcare systems faring post-COVID, and what impact is this having on their real estate utilization and strategy?
What impact will rising interest rates have on the funding/lending market?
What is the relationship of the front lines in leasing, management and operation?
Consumer healthcare has arrived – how is the Medtail doing from a real estate perspective?
Is behavioral health the next big thing in health/MOB real estate?
Real estate executives of hospitals, health systems and doctors
Owners, investors and developers
Debt and equity capital providers and financial intermediaries
Operators & Managers
Industry Suppliers
investment brokers
Institutional investors and fund managers
Rental and Marketing Specialists
Architects & Designers
Contractors and Engineers
Title insurers, lawyers and accountants
DETAILS/REGISTRATION
Subscribe to updates on this event
For more information on speaking and sponsorship opportunities, contact Rich Kelley at 914-309-6954.
---
InterFace Conference Group is a division of France Media Inc.
France Media Inc. is editor of Mall Companies, California Malls, Retail And Food Service Companies, Senior Housing Companies, Student Housing Companies, Southeast Real Estate Companies, Texas Real Estate Companies, Northeast Real Estate Companies, Real Estate Companies of the West, Heartland Real Estate Businesses, Southeast Multi-Family and Affordable Housing Business Housing Business, Texas Multi-Family and Affordable Housing Business, West Multi-Family and Affordable Housing Business, Midwest Multi-Family and Affordable Housing Business , and Northeast multi-family and affordable housing company.
For more information on all commercial real estate magazines, websites and newsletters published by France Media Inc., visit https://www.francemediainc.com/publications.