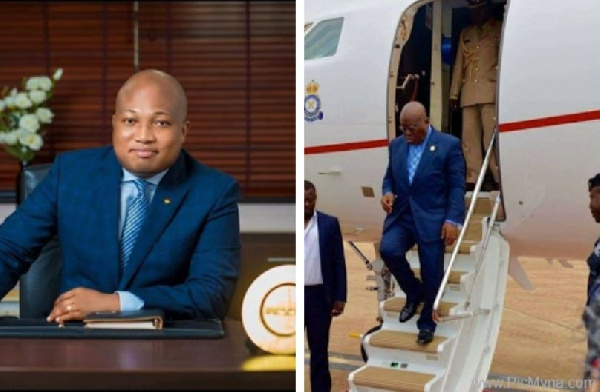 Presidential jet flew to France and Zambia while Akufo-Addo used luxury jet to UK – Ablakwa
President Nana Addo Dankwa Akufo-Addo and Samuel Okudzeto Ablakwa
• Samuel Okudzeto Ablakwa claims that the presidential plane flew nonstop to France
• It was when President Akufo-Addo rented a luxury plane from the UK
• The theft, Ablakwa said, cost the country $ 14,000
Samuel Okudzeto Ablakwa alleged that while President Nana Addo Dankwa Akufo-Addo flew in a luxury charter plane that cost the country $ 14,000 an hour in the UK, an unknown person was using the Ghanaian presidential plane, the Dassault Falcon 900-EXE, for France, Lusaka and Kumasi.
Speaking in Friday's edition of Good Morning Ghana, the MP for North Tongu said that since the presidential plane flew to these three locations, it implies that President Akufo-Addo had no excuse for frivolously spending taxpayer money.
Okudzeto Ablakwa noted that after following Ghana's presidential jet, he revealed that, "while the president was in the UK on his charter plane, someone used our presidential jet for France; it flew nonstop on July 19 and returned on July 21. Who used the plane [Presidential jet] in France?
"As I followed up while the President was on this LX-DIO charter plane, the Presidential jet was spotted again in Kumasi on August 28… so who was using the Presidential jet? This confirms that there is nothing wrong with the presidential plane, "he said.
Ablakwa observed that the presidential plane was also spotted in the Zambian capital Lusaka on August 24.
He said the plane which had previously said it could not fly nonstop to France was being used by unknown people while the president was on a state visit to other countries in a luxury chartered plane, which is a burden for the Ghanaian taxpayer. .
"It's just clear the callousness has taken over, I mean let's relax and they can say whatever they want and we can't be bothered, we don't care and that's wrong. If you do the math, just for that plane, 41 hours out of $ 14,000, or $ 570,000 at the current exchange rate of GHC 3.8 million, "Ablakwa said.
Dominic Ntiwul had previously told lawmakers that the Ghanaian presidential plane, the Dassault Falcon 900-EXE, had issues that would make it "unsuitable" for the president on international trips.
Responding to a question about the airworthiness of the plane, the defense minister said that there are some challenges with the current presidential plane, such as the limited number of passengers it can carry, the number of times needed for refueling while traveling and luggage capacity, among other things, makes the plane not suitable for its purpose and the chair can not even take a shower on the plane.
"This plane will carry a load of 11 people minus the crew. When this aircraft travels in the Eastern United States or Asia, it will not load a crew of more than eight people plus luggage. So it depends where it's going. Second, I also said that the plane has to make refueling stops, and also in this COVID-19, when traveling to multiple destinations like the President's recent trip, the Falcon could not have been taken because it should have made undesirable technical stops, and when traveling with more than 20 people as he did on business trips which brought in huge sums of money for this country, he He'll need more than just a Falcon, otherwise the others would have gone a day ahead of the President to get ready.
"In fact, the president should also leave a day in advance because no president can shower in this plane. He cannot go from this plane directly to a meeting," Ntiwul stressed.