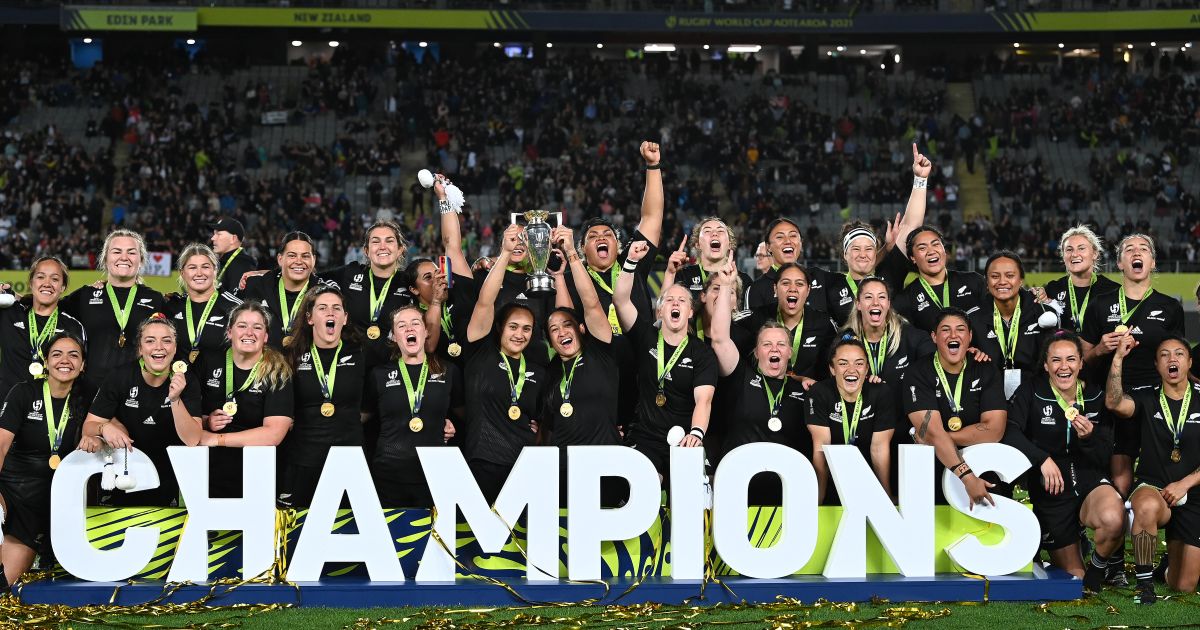 Rugby World Cup: what we learned
Analysis – Congratulations to the Black Ferns, who not only won their seventh World Cup title, but did so following perhaps the most tumultuous year a national team has ever had to endure.
At the end of 2021, it seemed unlikely that the team would even qualify for the semi-finals, let alone pack Eden Park. But here we are, once again, celebrating the triumphs on and off the pitch of a team that wrote perhaps the greatest redemption story in New Zealand rugby history.
While it was the main event, the Black Ferns' 34-31 win over England in the final was just part of a once-in-a-lifetime Rugby World Cup experience that gave us so much think about it.
The audience bought – the credit should be heaped squarely on the tournament marketing department. Focusing on the first and last days meant everything else was a bonus, with plenty in Whangārei for the Black Ferns pool matches and quarter-finals. They have also brought with them a special atmosphere, which can be relied on not only to sell the women's matchday experience, but also to rugby in general.
The business end was pure entertainment. There's been a lot of talk about only three teams being in contention to win and that's fine (there's a Rugby League World Cup going on right now with a very similar narrative) but once they all started to compete, it was worth it. Waiting.
Both semi-finals were instant classics, with Canada showing just enough cracks in the England armor to suggest they wouldn't be quite the unstoppable force everyone assumed they were. Meanwhile, the Black Ferns played a mix of sublime and ridiculous rugby to dominate France, doing everything wrong while leading by a point in the final five minutes.
The final was even better – it was two very good teams at their absolute best, on the biggest stage and in front of a sold-out crowd. The final had 11 tries, drama, lead changes, before being decided by a thrilling goal line. In short, everything you could ask for in a showpiece, which dominated the last RWC final in 2017.
Les Fougères Noires have remained faithful to their principles. It would have been tempting for the revised coaching setup to wipe the slate clean and encourage no-risk strategy, but that's just not what the Black Ferns are.
An entire season of tinkering by Wayne Smith only saw the best team truly revealed in the semi-finals, which was a masterstroke as it gave England and France nothing to really work on.
But who really knew how it worked – to be fair, the Black Ferns got a very favorable draw, including an opener against an Australian side they had already beaten three times this season. But the quarter-final system was confusing and poorly communicated, leading to two games in a fortnight against a poor Welsh side.
Consistency in officiating – head clashes are dealt harshly in men's rugby so it was odd to see the cards sitting in referees' pockets when they happened during RWC.
The Wallaroos managed to be reduced to 13 players in one of their games and then the final had a clear red, but not much else in terms of player safety as the referees did their best to avoid sending players off. The worst case scenario was in the semi-final between the Black Ferns and France, with the home side very lucky after some dangerous shots.
NZ Rugby came off hard – the governing body are an easy target most of the time as they often seem to invite criticism by simply not thinking things through. But aside from the scheduling conflict and the lack of games south of Auckland, they can hold their heads high that the World Cup was in New Zealand.
It was NZR who made the bid in 2018, aiming to create an attendance record and change the way women's rugby is viewed here. Whatever else you think of them, they made it happen.
Superstars – you could argue that Ruby Tui is New Zealand's most popular rugby player right now, a status she achieved through incredibly shrewd management of her media engagements and on-field heroism . But really, it was a collective effort of the intensely sympathetic Black Ferns and their charismatic trainer. Wayne Smith has shown he really is the right man for the job, a job he will likely leave in the hands of his team.
And now? Challenges remain for women's rugby in New Zealand. The world is still pretty much the same shape, so the Black Ferns will once again have to travel very far to have meaningful matches. Australian women's rugby is still a long way off the pace, so it's likely England, France and Canada will remain the toughest opponents for some time to come.
At grassroots level, this win will encourage more game numbers, but it has to be games with suitable coaches – which is a trickier proposition. Like the Black Ferns campaign, it's a challenge that can be overcome with the right amount of effort and resources.